Tag Archives:
store
Nw/oMH is going to now at was at the Super Bowl of the retail world – the San Francisco International Gift Fair. Normally, I just slink around the show waiting for someone to notice I'm carrying 18 purses and a box of business cards, but this time I'm going to be in an actual booth, on the actual show floor, and won't be asked to leave by actual security. The SFIGF is a giant market for retailers to check out new wholesale lines of products and order lots of interesting new stuff ahead of the holiday season. There are lots of boutique businesses right along more established brands, and definitely something for everyone. Sean the wallet/belt guy scheduled a booth, but due to family reasons, he couldn't fly out to attend the show, so I've stepped in to man the booth. We're going to have something for everybody – wallets, purses, watches, t-shirts, hoodies, ninjas, pirates, dancing, sword fighting…. You think I'm joking? I guarantee every one of those things will be in our booth at some point. Come and see for yourself at the S.F. International Gift Fair Aug. 5-8, 2006. Or take the interactive booth tour! (Click pics to enlarge)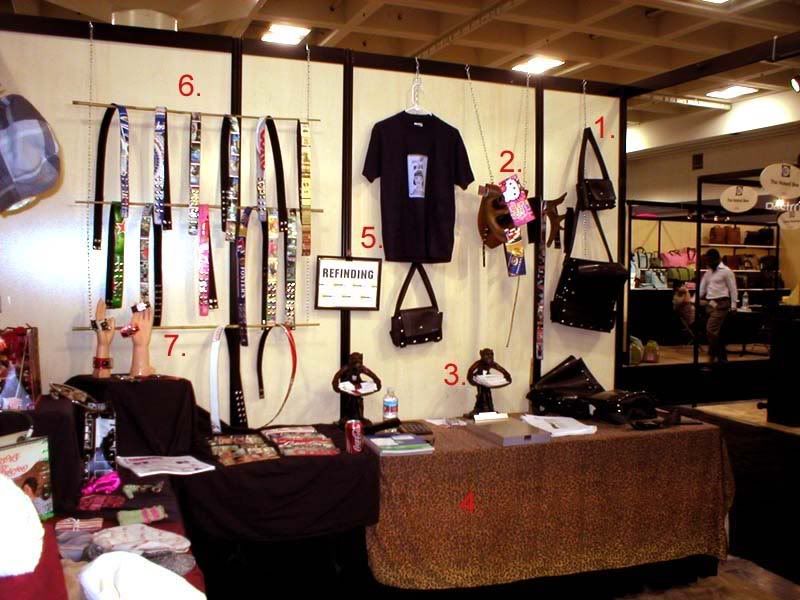 1. Tire bags
2. Deer antlers for displaying wallets tastefully
3. Brass statues of monkeys holding platters of business cards 
4. Everybody likes leopard print! 
5. Hastily-made sign for Sean, using business cards 
6. Ingenious chain-and-bamboo rack for displaying belts 
7. Model hands for watches that co-booth babe Joe (who screenprints t-shirts) had in his apartment, for some sinister and mysterious reason.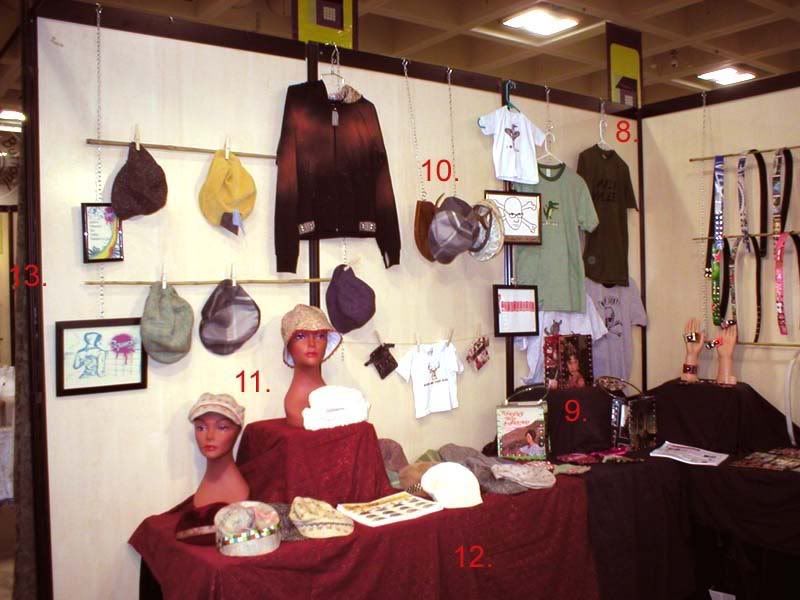 8. Joe and Diana t-shirts on display
9. The album cover purse corner, with iPod clothes nearby 
10. Yes, more antlers. So?
11. Lesley's hats – definitely getting the most attention
12. Moroccan bedspread – gold design doesn't show well in photo
13. Our neighbors, "Successories in the Caboose." Cute jewelry, sold from a real caboose by the side of the road in Pacifica. Not, you know, a fetish.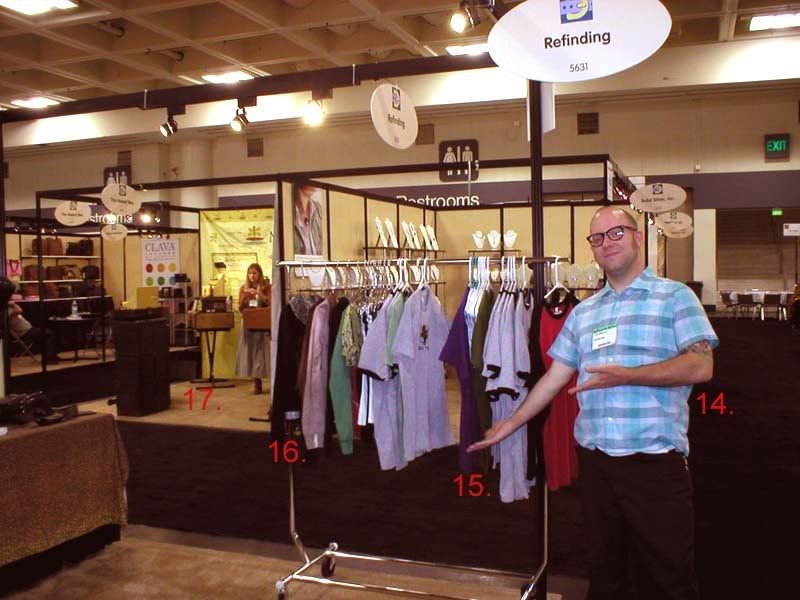 14. Joe, who agreed to man the booth with me without even knowing the show hours (9am-6pm) or length (4 days, plus 2 day set-up), or sheer scale (monumental). This man is my hero. I will add his shirts to the site soon, too.
15. Sampling of Joe and Diana t-shirts
16. Lesley's hoodies and tanks
17. Another neighbor, "The Naked Bee." What they were selling was a total mystery until the start of the show, when they brought out bee-produced beauty products.

---
---